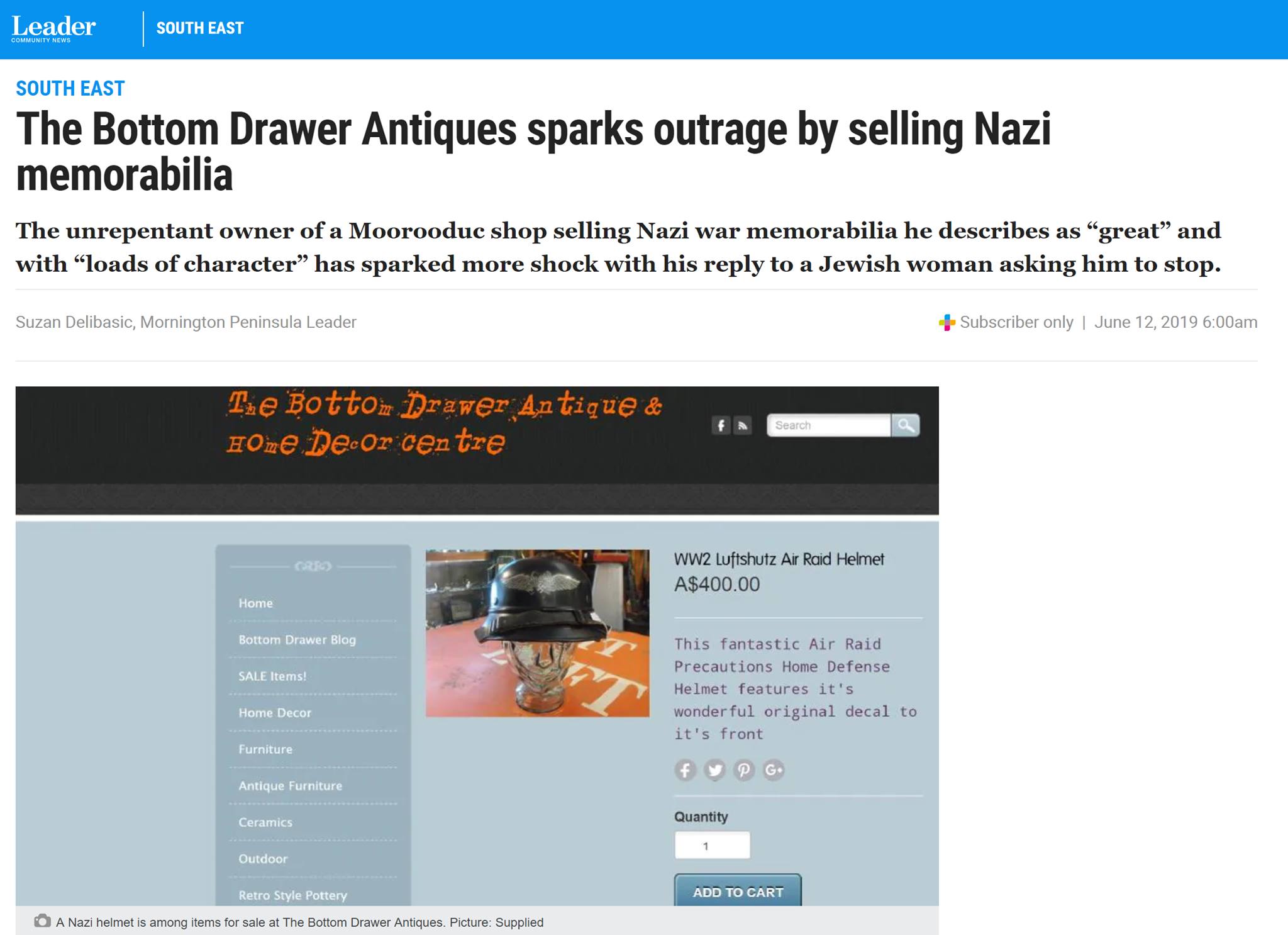 A Moorooduc antique shop has sparked outrage by selling original Nazi memorabilia including helmets, badges and propaganda posters.
The Bottom Drawer Antiques, at Mornington-Tyabb Rd, is selling original Nazi propaganda posters saying "Heil Hitler", war helmets, a German wound badge displaying swastika symbols, and more.
Anti-Defamation Commission chair Dr Dvir Abramovich told the Leader he received a complaint from an "outraged" Jewish woman who saw the items — described on the shop's website as "great", "wonderful" and having "loads of character" — while visiting the store.
Dr Abramovich said the woman emailed the store's owner, antique dealer Ronald Evans, asking him to stop selling the items.
But the woman was upset at Mr Evans' response.
In the email, Mr Evans wrote his grandfather, Brigadier Sir Bernard Evans DSO, previously a Lord Mayor of Melbourne, spent many years on the battlefields during World War II, to defend his right and freedom to sell the items.
"I note that, during my 30 years as a dealer in antiques and collectibles, nobody has ever complained to me about the display and or sale of items pertaining to the regimes of Mao Zedong or Joseph Stalin, both regimes being responsible for greater numbers of deaths than the Nazis, and therefore symbols of hate," Mr Evans stated in the email.
Mr Evans then asked: "May I have your permission to display your email, and our reply, in the display case along side the historical military items that I will continue to display and sell?"
An authentic wound badge featuring the swastika symbol is being sold at the shop.
A Nazi propaganda poster sold at the antique store.
Dr Abramovich, in calling for Mr Evans to stop selling the items, said the pursuit of profits must have its limits.
"This abhorrent phenomenon is wrong on so many counts and makes me sick," he said.
"When will sellers understand that there is a direct link between the sale of such items and mass murder and that most Australians reject this ghoulish trade."
Dr Abramovich said "these tools of the devil" with descriptions such as "great" and "loads of character" was an insult to those who perished at the hands of the Nazis.
Mr Evans told Leader he had no intention to offend anyone but defended his right to sell the items.
"I clearly accept that the Nazi regime was wrong. Museums around the world purchase military items with the intention of display, so people do not forget the atrocities (and defence) of previous, and current regimes," he said.
"Any film or book regarding the history or details of World War II could profit from the Holocaust or other horrific, major crimes in history.
"Why should a small antiques store in Moorooduc shoulder total blame?"