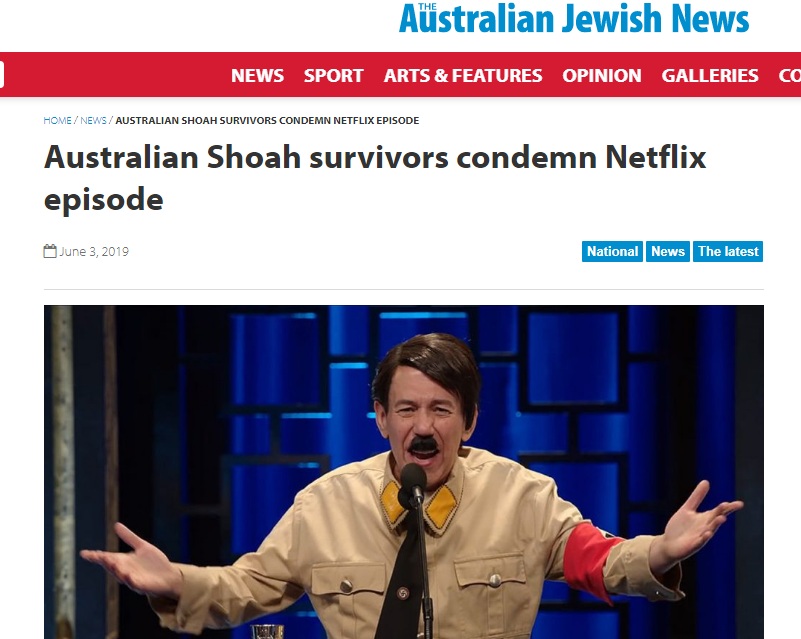 A GROUP of Australian-based Holocaust survivors have called on Netflix Australia to immediately pull an episode of the new series Historical Roasts, which mocks Anne Frank and the Holocaust.
The episode, which begins with the opening line "let's get this Nazi party started", features Jewish host Jeff Ross wearing a yellow Star of David armband and telling viewers if they're offended by anything they see, they should do what Franklin D. Roosevelt did and "look the other way".
Fellow Jewish comedian Gilbert Gottfried, who plays Adolf Hitler, says everyone knows Frank as a hero and a best-selling author, "but to me you'll always be little number 825060".
"Of all the accounts that I've read, Anne, your book is by far the most flammable," he adds.
The episode also features Jewish comedians Rachel Feinstein and Jon Lovitz.
On Monday, Holocaust survivors Joe de Haan, Irma Hanner, Annetta Able and John Chaskiel issued a joint statement, together with Anti-Defamation Commission chairman Dvir Abramovich, calling on Netflix to "do the right thing by apologising for the hurt they caused and to immediately pull this episode off the air".
"We are outraged. This is the perverse cheapening and debasing of the Holocaust at its worst, and takes the exploitation of the dead to a new low," the statement reads.
"There is nothing funny or amusing about a bestial dictator responsible for the extermination of six million Jews, or the death of Anne Frank, or the monstrous experiments of Mengele, or the gas chambers, or the crematorium."
The statement adds that media giants "have a responsibility to remember the Holocaust appropriately and respectfully, not as material for a crass punchline and a gag".
"Netflix has crossed all lines of moral decency by allowing these Jewish comedians to callously mock the memory of those who perished at the hands of the Nazis, and to re-victimise and trample on the feelings of survivors who have suffered enough."