This letter was emailed to Richard Di Natale two weeks ago. To date, I have not had response.
Dear Senator Di Natale:
I am writing to call to your attention the forthcoming visit by Mr Richard Falk to Australia and the invitation  by NSW Greens MP David Shoebridge to Mr Falk to deliver a talk on July 4 at the NSW Parliament. The topic of Mr Falk's address will be A Future for Palestine: BDS, International Law and Beyond.
This is an issue that we could not be silent on.
For forty years, the Anti-Defamation Commission (ADC) has been Australia's leading civil rights organisation, fighting anti-Semitism and hatred in all its ugly forms. We are aware of the cost of unchecked racism in our society and the link between hateful speech and violence—the massacre in Christchurch is the most recent example of such a link, though there are, sadly, too many.
Over the past few years, we have seen a disturbing increase in antisemitism in our country.  Indeed, over the last 12 months alone, there was a 59% increase in anti-Semitic incidents, the largest year-over-year increase recorded. Members of the Jewish community have been subjected to physical assaults, threats, abuse, harassment, vandalism and graffiti. Globally, we have witnessed the murder of Jewish worshippers at the Tree of Life synagogue in Pittsburgh and at the Poway Synagogue in San Diego.
In view of such a frightening surge, we believe that this is a moment in time when all political leaders must vigorously condemn anti-Semitism whenever and wherever it surfaces and regardless of whomever may be spreading it.  Inaction is acquiescence.
Richard Falk has been widely condemned for his antisemitic vitriol by the British government, including former PM David Cameron   the Canadian government , former United Nations Secretary-General Ban Ki-moon , former U.S. Ambassador Susan Rice , anti-racist organizations, members of parliament from around the world and many other officials.
To make matter worse, Falk has praised the terrorist group Hamas  which led to the Palestinian Authority seeking to expel him from the UN.
In fact, Falk has described himself as a "partisan of Hamas", the terrorist group responsible for the murder of Israelis and Palestinians.  In an interview given in 2010, Mr Falk seemed to legitimise violence against Israeli settlers, when he stated, "I don't agree with the tactics of killing civilians and terrorist tactics. Of course, the armed settlers are an ambiguous category…"
Mr Falk has compared Israel to Nazi Germany, "Is it an irre­spon­si­ble over­state­ment to asso­ciate the treat­ment with Pales­tini­ans with the crim­i­nal­ized Nazi record of col­lec­tive atroc­ity? I think not." Similar equations have been deemed antisemitic by the International Holocaust Remembrance Alliance.
On another occasion, Falk remarked that Israel was, "slouching toward nothing less than a Palestinian holocaust".
As a result, The Canadian government had called for his removal from the UN, with Canadian Foreign Minister John Baird stating, "Canada has previously called for Falk to be fired "for his numerous outrageous and anti-Semitic statements, and these latest comments underscore once more the complete and total absurdity of his service as a UN Special Rapporteur."
Former British Prime Minister David Cameron has denounced Falk for publishing an antisemitic cartoon that showed a dog wearing a Jewish head-covering urinating on a depiction of justice, and devouring a bloody skeleton.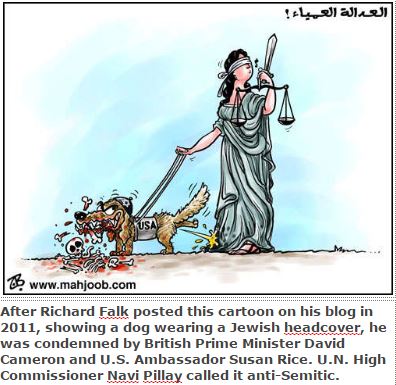 The United States ambassador to the UN, Susan Rice said she was outraged by his "highly offensive" comments, noting that "Someone who spews such vitriol has no place at the UN. Past time for him to go."
UN High Commissioner Navi Pillay called Falk's posting of the cartoon anti-Semitic.
British MPs David Burrowes and Theresa Villiers also blasted Falk for this hateful post.
Additionally, Mr Falk has repeatedly refused to remove blatantly antisemitic posts and comments that have appeared on his personal blog by contributors whom he defends and praises.
Some of the antisemitic remarks include:
"The Protocols [of the Elders of Zion] is an uncannily accurate description of what is happening right now."
"The world is beginning to understand just how toxic Jewish religious practice and cultural indoctrination really is"
In 2013, the UK Mission to the United Nations labelled Falk's remarks as antisemitic when he blamed the Boston terrorist attack on "the American global domination project" and "Tel Aviv."
The UK Mission noted that this was "the third time we have had cause to express our concerns about Mr Falk's antisemitic remarks."
U.N. spokesman Martin Nesirky also said that Secretary-General Ban Ki-moon rejected Falk's comments, which could undermine the U.N.'s credibility and work, "The Secretary-General immediately condemned the Boston marathon bombing and he strongly believes that nothing can justify such an attack."
In 2012, the British Foreign Office condemned Mr. Falk for providing the cover endorsement of a blatantly antisemitic book that depicts and describes Jews as Nazis, and which asks whether "Hitler might have been right after all." The book endorsed by Mr. Falk, "The Wandering Who," written by Gilad Atzmon, accuses "the Jews" of being "the only people who managed to maintain and sustain a racially orientated, expansionist and genocidal national identity that is not at all different from Nazi ethnic ideology." The UK Mission in Geneva protested to the UN human rights office, expressing London's "serious concerns."  The material in the book was so extreme that even those who are anti-Zionist activists, including Omar Barghouti and Electronic Intifada founder Ali Abunimah, were amongst more than 20 who denounced the book and its author for racism and anti-Semitism.
The Foreign Office's UK Non-Discrimination Team has concluded that Mr. Falk's writings were "resonant of the longstanding antisemitic practice of blaming Jews (through the State of Israel by proxy) for all that is wrong in the world."
Moreover, a Jerusalem Post investigation found that Mr Falk was a member of an antisemitic hate group on Facebook whose aim was ending "Zio-Nazi oppression."
The invitation extended to this individual by Mr Shoebridge raises serious questions about where the Australian Greens stand on the issue of antisemitism and the delegitimization of Israel. Indeed, many in the community will rightly conclude that you and your colleagues endorse the views propagated by Mr Falk. Further, hosting Mr Falk at the NSW Parliament will bring dishonour to the house, and to your party, and gives Mr Falk the imprimatur of legitimacy that he does not deserve.
I strongly urge you to demonstrate your revulsion with Mr Falk's odious and inexcusable rhetoric by demanding that Mr Shoebridge withdraw his invitation for the July 4 event.  By doing so, you will make it crystal clear that anti-Semitism will never find a refuge in the Australian Greens party and that you and your colleagues will never tolerate or enable anyone who espouses such sentiments. Today, more than ever, it important for our elected representatives to show true courage and to reject anyone who tries to turn Australians against each other with divisive and inflammatory speech.
Thank you for your prompt attention to this matter. I'd be grateful if you could let me know if you have any questions or require any additional information.
Sincerely,
Dvir Abramovich
Chairman
REFERENCES
https://www.thejc.com/news/uk-news/pm-condemns-un-adviser-s-antisemitic-cartoon-1.28337),
https://www.timesofisrael.com/canada-wants-un-official-ousted-over-palestinian-holocaust-comment/),
https://www.youtube.com/watch?v=i6mIA8F1ZVY
https://www.youtube.com/watch?v=i6mIA8F1ZVY
https://www.youtube.com/watch?v=7aPN97izL-c&feature=youtu.be_
http://www.maannews.com/Content.aspx?id=267176.
https://thehill.com/opinion/international/381061-how-to-fix-the-uns-anti-israel-club-of-dictators
https://www.thehindu.com/news/resources/Full-text-of-the-interview-with-Richard-Falk-U.N.-Rapporteur-on-Human-Rights-in-the-Israeli-Occupied-Territories-of-Palestine/article16046050.ece
https://electronicintifada.net/content/championing-global-human-rights-interview-richard-falk/7873
https://www.holocaustremembrance.com/working-definition-antisemitism
https://forward.com/news/breaking-news/189641/richard-falk-slammed-for-slouching-to-holocaust-re/
https://www.timesofisrael.com/canada-wants-un-official-ousted-over-palestinian-holocaust-comment/
https://www.thejc.com/news/uk-news/pm-condemns-un-adviser-s-antisemitic-cartoon-1.28337
https://twitter.com/ambrice44/status/326879543308722177
https://www.jpost.com/Jewish-World/Jewish-News/Pillay-says-Falks-cartoon-was-anti-Semitic-objectionable
https://www.thejc.com/news/world/global-call-for-un-man-to-resign-1.25204
https://www.foreignpolicyjournal.com/2013/04/21/a-commentary-on-the-marathon-murders/
http://www.thetower.org/anti-semitism-scandal-engulfs-u-n-human-rights-body-u-n-chief-criticized-for-inaction/
http://blog.unwatch.org/index.php/2013/04/24/uk-condemns-uns-richard-falk-for-antisemitic-remarks-for-third-time/
https://blogs.timesofisrael.com/why-the-uk-should-expel-un-official-richard-falk/
http://uspcn.org/2012/03/13/granting-no-quarter-a-call-for-the-disavowal-of-the-racism-and-antisemitism-of-gilad-atzmon/
http://blog.unwatch.org/index.php/2013/06/13/new-uk-says-richard-falk-article-resonant-of-longstanding-antisemitic-practice-of-blaming-jews/
https://www.jpost.com/Israel-News/Author-of-anti-Israel-UN-report-is-member-of-antisemitic-FB-groups-501141