The Anti-Defamation Commission has welcomed the decision by Facebook to kick JB Military Antiques off its platform after the auction house compared ADC Chairman Dvir Abramovich to Hitler.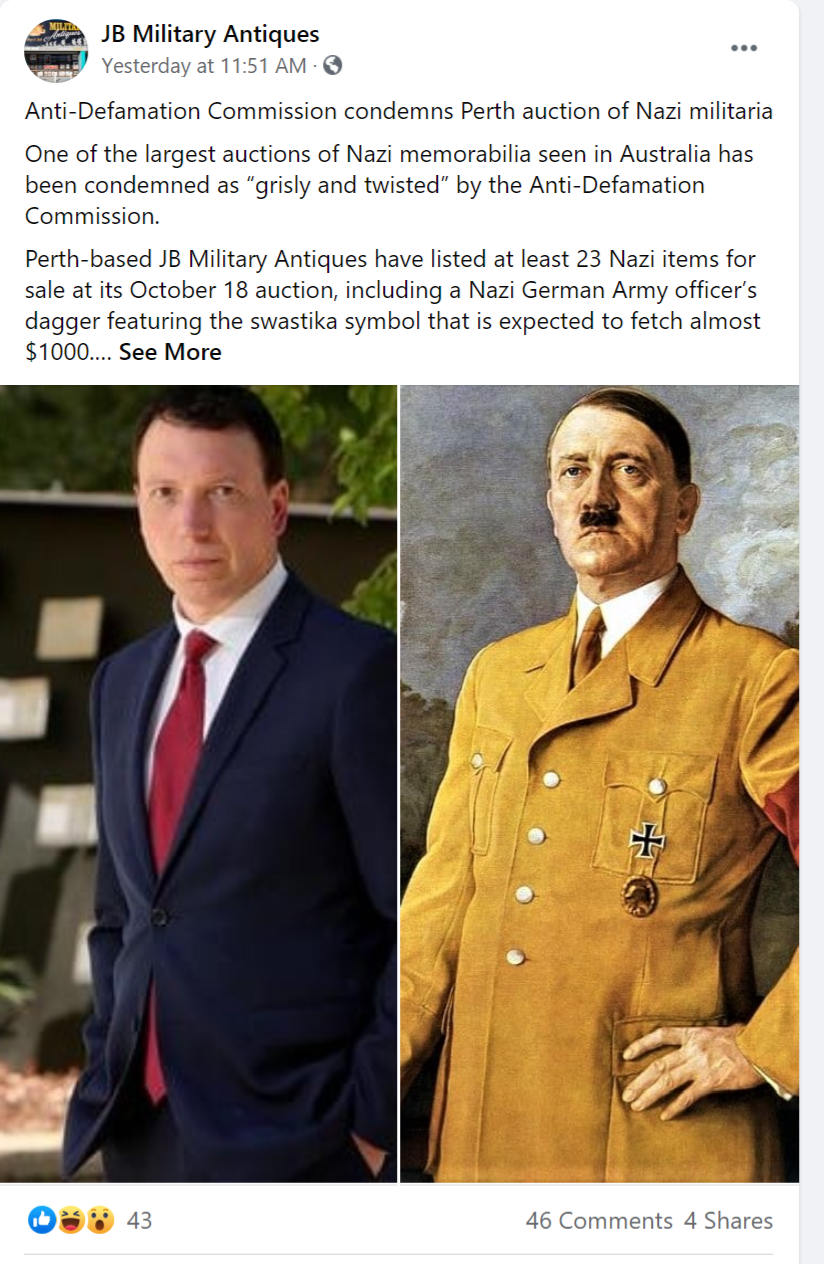 The post attracted a large number of responses with several users posting hateful comments against Dr Abramovich
After the ADC contacted eBay, the e-commerce giant removed all Nazi memorabilia sold by JB Military Antiques on its site as this listing violated eBay's offensive materials policy.
Dr Dvir Abramovich, Chairman of the ADC, issued the following statement:
"I applaud Facebook for giving JB Military Antiques their marching orders.
Everyone today is a target as rampant trolling has sadly become part of the online experience, and this decision by Facebook is a victory of decency over hateful rhetoric.
We thank Facebook for demonstrating that anyone who weaponizes their platform to smear, harass and injure others will be kicked out, though they have a long way to go to address hate-speech properly.
I am also appreciative that eBay s listened to our concerns and moved quickly to remove this filth.
Companies need to do better in cracking down on Nazi propaganda that transmits and glorify murderous prejudice and need to address the frequency that such content is allowed to be posted on their sites.
Items that represent virulent antisemitism and genocide,  that ultimately resulted in the gas chambers of Auschwitz and to the extermination of millions, should not be normalized.
Still today, this dangerous material serves as an inspiration for white-supremacists who are motivated to perpetrate massacres like the ones in Christchurch and Pittsburgh.
Digital hate represents one of the most serious threats to our freedom and democracy, and cyber-retailers must do more in enforcing best practises to respond to this growing problem.
I call on all other companies to follow suit and urge the state and federal governments to consider regulating this perverse and sickening trade.